BOX OFFICE WAREHOUSE SUITES
Office, Warehouse & Retail Space For Lease Built From Shipping Containers
Starting at $975 for 320 sq. ft.
Ask your leasing agent about upgrades to customize your commercial suite.
From 320sf and $975/mo. shipping container construction means you can rent office space in DFW for less!
Hip community. Comfortable, compact, professional, and inspiring space in Ft Worth, just south of Alliance Airport, west of I-35 at the Golden Triangle exit.
Retail lease space with all glass store fronts for added visibility.
Overhead doors in the warehouse/shop area.
Covered garage parking available.
2-story units with bathroom and patio upstairs and coffee area and ADA compliant bathroom downstairs.
Outside patio upstairs, and even a grassy area!
Upstairs with bathroom is a perfect place to relax, meet with or entertain clients, or have private meetings, offices or a conference room.
Office lease space that will grow with your business. Add on warehouse or workshop space by simply adding more shipping containers. Containers are 8' wide and 9'6" tall, with fully air-conditioned upper and lower office/Studio units.
Affordable rates.
Flexible lease terms available.
1953 Golden Heights Rd
Fort Worth, TX 76177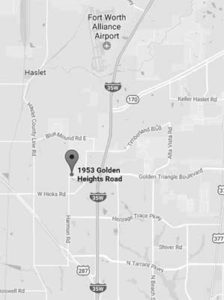 (817) 439-3224 Office
(817) 903-9438 Mobile
Space That Works As Hard As You Do
You'll do some of your best thinking inside the box – Fort Worth Box Office Warehouse Suites
Drone Tour Of BOWS
Take a drone tour of Box Office Warehouse Suites, the Fort Worth business center built out of shipping containers. The tour takes you throughout the office, retail and office warehouse space for rent.
LEASING
Starting at $975 a month.
Lease space for your business today! Flexible space to fit your business needs. Starting at 320 sq. ft. for $975 a month. Contact us today for more information.